Hazardous materials – HAZMAT – are an unfortunate but common feature of modern life. Many industrial processes and everyday tools rely on substances that are radioactive, flammable, explosive, poisonous, corrosive, or otherwise dangerous to health and life. Industrial and transportation accidents can cause spills, fires, or explosions with little warning. According to the U.S. Department of Transportation's (DOT) 2010 statistics, Kentucky saw 179 HAZMAT incidents on its highways alone during that year.
Be Safe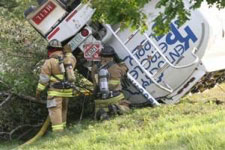 Move to safety – uphill and upwind. Some chemicals aren't visible and don't have an odor but can still harm you.
Call 9-1-1 and report the accident. If you have accurate information on the substances involved – such as a description of any signs or markings on the building or vehicle – provide it so responders have a better idea what to expect.
Evacuate or shelter in place. In a severe HAZMAT incident, firefighters or other officials may order nearby residents either to evacuate or to shelter in place. The order given will depend on the chemicals involved in the incident and the responders' ability to contain the substance. For more information, see our page about sheltering in place.
Be Informed

In the United States, specific signs identify sites where HAZMAT is stored and vehicles which transport it. On buildings and other storage sites, the most common marking is the NFPA hazard diamond. An example is shown to the right. The hazard diamond's four quadrants mean:
Red segment – Flammability (0 is none, 4 is extreme).
Yellow segment – Instability or tendency to explode (0 is none, 4 is extreme).
Blue segment – Health hazard (0 is none, 4 is extreme).
White segment – Special properties (in our example, the slashed-through W indicates a dangerous or unusual reaction with water – important for firefighting!).

On the highway, you'll often see DOT placards on trucks or rail cars. These diamond-shaped signs can indicate the general class of HAZMAT that the vehicle contains, with different colors and symbols indicating different classes of material. The image to the right contains several examples.
Some HAZMAT placards may contain four-digit numbers. Such numbers indicate that the vehicle is carrying one specific material which has an assigned number in the DOT's Emergency Response Guidebook (ERG). The ERG is a pocket reference for identifying hazardous materials and their characteristics. It also advises responders on what actions to take to protect themselves and the public during an incident. In the example here, the "1972" placard would indicate a vehicle containing liquefied natural gas.
---
Learn More
Visit the Lexington-Fayette County Local Emergency Planning Committee (LEPC) and the Lexington Fire Department's Division of Special Operations to learn more about HAZMAT preparedness and response in Lexington.
Download a PDF copy of the ERG from the U.S. Department of Transportation's website.
Install a digital copy of the ERG or another HAZMAT guide on your smartphone (search iTunes or Google Play for "HAZMAT" *) so you can look up the meaning of DOT placards. Tip: While you're driving, please have a passenger do the searching.
If you're curious about how first responders operate in HAZMAT incidents, or about the chemistry behind common hazardous substances, check out the Centers for Disease Control and Prevention's (CDC) hazardous materials resources.
For information on a particular HAZMAT hazard specific to our area and what we do to prepare for an accident involving it, see our resources on the Chemical Stockpile Emergency Preparedness Program (CSEPP).
* Disclaimer: The Lexington-Fayette Urban County Government and the LFUCG Division of Emergency Management do not endorse any goods or services mentioned in our blog posts, social media statements, press releases, or website content. Any mention of commercial products is for informational purposes only.